Somewhere in North Pole, that Jolly old man we've come to know and love is hitching his flying reindeer, laying off the elves, and preparing for a year long hibernation.  As Hollywood has taught us, the Christmas cheer never really disappears, it's inside of each and every one of us. What does disappear, are the needles on your once gorgeous Christmas Tree as it begins to decay. We offer dumpsters for the quick disposal of these trees, right here on JBER.
WHEN AND WHERE?
From 27 December to 9 January dumpsters will be placed at both of our offices to collect old Christmas trees.
6350 Arctic Warrior Drive, JBER-E
338 Hoonah Avenue, JBER-R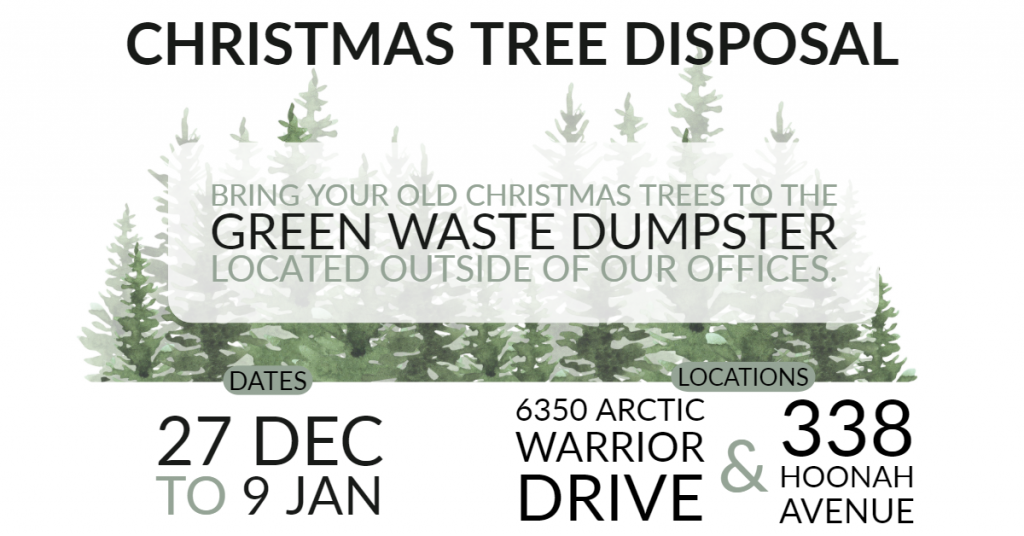 Remove All Decorations
All lights, ornaments, candy canes, tinsel, and whimsical tree decor should be removed from the tree before tossing it into our dumpsters.
But I Love My Tree, Can I keep it Year Round?
It loves you too but unfortunately as Christmas trees begin decaying, the risk of fire increases drastically. These fires are devastating. Perhaps consider a fake tree if you're looking to keep the halls decked out for a few extra weeks/months/forever.  And believe it or not, there are places in Alaska where Christmas never ends. 
SANTA IS WATCHING
These dumpsters are only designated for green material; all tree material will be recycled into mulch.
OTHER DISPOSAL OPTIONS
Trees aren't the only things that need to be thrown away during the holiday season.
Cardboard Boxes
Cardboard is recyclable, and can be broken down placed into your recycling tipster. JBER also has multiple cardboard trailers located around the installation.
Old Things
While Santa doesn't seem to have a problem bringing new things your way, he often neglects to take things that are no longer needed. It's great to wake up to a new TV/PlayStation/Dollhouse, but what to do with the old one?
Donate: The ASYMCA has a lovely little bargain shop. Check it out!  The Salvation Army also has drop offs around town. You also have close to 10,000 neighbors, consider passing on an old treasured possession to one of them.
Reuse or Re-purpose: Get creative!
Disposal: You can schedule a free bulky item pick up through our maintenance department. This is a great way to get rid of large objects that are broken or do not have another use.
Note: Dumpsters located on AMH property are not for resident household waste. In fact, there are no dumpsters on JBER (that we know of) that are designated for resident household waste. Disposal of household trash in private dumpsters is illegal.