JBER has adjusted HPCON to Charlie. This status limits what we are allowed to do and who from our team is able to access the installation.
EFFECTIVE IMMEDIATELY
1. JBER-E and JBER-R Offices: Closed
Our main office phones and online chat will be active from 10 AM to 2 PM Monday- Friday.*
If you have an upcoming move in or move out, we contact you to discuss options.
Credit card fees are temporarily waived if payment is made over the phone.  Additionally, dropboxes are located outside office for payments and documents.
We understand that the closures of certain businesses across the country may cause financial hardships on some families. We are here to help, and willing to make various accommodations; but you must contact our team to discuss available options.
Have a specific question? Things are changing fast, and each situation is unique. Please contact our office to discuss concerns.
2. Routine Work Orders: Halted
Routine, non-emergency items will be put on hold. Requests will be reviewed daily, if an item is typically a routine, but cannot be deferred, we'll contact you.
Submit a Request Online
3. Maintenance Line: Emergencies Only
Effective immediately, our maintenance line will only accept emergencies only. Routine requests must be submitted online.
We will still dispatch technicians for emergencies and urgent work orders.

Please call in any environmental health related issues and questions, such as mold, pests, etc.
Please call in issues related to an appliance's operation.
4. Self Help Center: Delivery Only
Our Self Help Center will be closed to all walk ins and we will no longer offer pickup service BUT…
You may request a zero contact delivery online at the form below.

It may take 3 business days to deliver; we are starting with Wednesday and Sunday deliveries.
Some items are becoming difficult to source/ purchase and may be unavailable.
Due to concerns over virus transmission, we have halted rental of carpet shampooers.
5. Online Resources
Website Chat Functionality
Our web chat is live! Simply click the "Chat Now" icon at the bottom of your screen. Live assistance will be available from 10-2, Monday- Friday.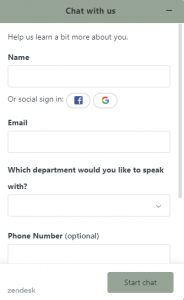 COVID-19 Landing Page
We continue to update our landing page.
View COVID-19 Page
Contact Form
Have other questions? You can always submit a request through our contact form.
View Contact Form
MAINTENANCE REMINDERS
Please continue to run the water in your basement mop sink at pencil width, and check the drain for obstructions prior to leaving; doing this will help prevent the water lines from freezing. While it is getting warm outside, the ground is still frozen.
If you are currently "making do" without TP because of the incessant hoarding; please do not flush paper towels, wet wipes, disinfectant wipes, old T-shirts, and napkins down the toilet.