JBER's recycling rate has hit an all time low; let's resolve to fix that in 2020!
Observing Recycling Habits
Both Aurora Military Housing and Alaska Waste routinely collect data on recycling habits. Our most recent observation found the recycling rate on JBER to sit right around 22%. While this number has historically fluctuated quite a bit, utilization has always been quite a bit higher.
What can be recycled?
Alaska Waste defines what can be recycled in curbside pickup. Restrictions of specific types of items are usually put in place to maintain accessible/affordable recycling service, reduce contamination, or in response to national/global trends or changes in regulation.
ACCEPTED ITEMS
Aluminum/Tin/ Steel Cans
Plastic PETE #2
Plastic PETE #1 (Bottles, NOT clam shells)
Cardboard (broken down, flattened)
Newspaper/Magazines/Junk Mail
Colored Paper/Copy Paper
Soft Cover Books/Phonebooks
Paper Egg Cartons/Cereal Boxes
PROHIBITED ITEMS
Glass
Plastic Bags
Green Waste (grass clippings, wood, leaves, etc)
Scrap Metal
Electronics
Plastic Containers, clam shells, and Cartons (that are not PETE #2)
Paper Plates, Cups, or Napkins
Food Waste
Aerosol Cans/Paint
Recycling Best Practices
Our intention when recycling is to contribute to the re-use of materials and simultaneously remove items from the waste stream (thus lowering landfill accumulation). Certain actions, however, can cause more harm than good, and negate any otherwise good intentions when recycling.
1) Clean Everything
Rinsing out containers is the first step in recycling. Food residue, in a can for example, can not only render that can un-recyclable; it can further contaminate other items. Pizza boxes or recyclable carryout containers should not be recycled if they are saturated in grease or food.
2) Know the Restrictions
There are just some things that are not accepted in curbside pickup. The main troublemakers are plastic bags and glass bottles. Plastic bags are pure and simple, the villain of the recycling world; they wreak havoc on the sorting equipment used at the recycling plant.  Glass bottles can still be brought to the recycling center, but should never be placed in your curbside roll cart.
3) Re-Use AND Recycle
Donating or selling usable possessions is just as important as placing your plastic bottles in the recycling roll cart. There are many resources on JBER that either enable you to get a little extra cash for items you no longer need or contribute to the well being of the community.
Yard Sales: Aurora allows yard sales year round (and will even help promote them)
Thrift Shops: JBER has a number of thrift shops that accept donated items and resell them.
Ft. Richardson Thrift Shop
ASYMCA BARGAIN SHOP
Donation Centers: There are many scattered throughout town.
4) Become a Creature of Habit
Alaska waste recently released an app that will help you and your family stay on track with pickup dates. Check it out and download it below!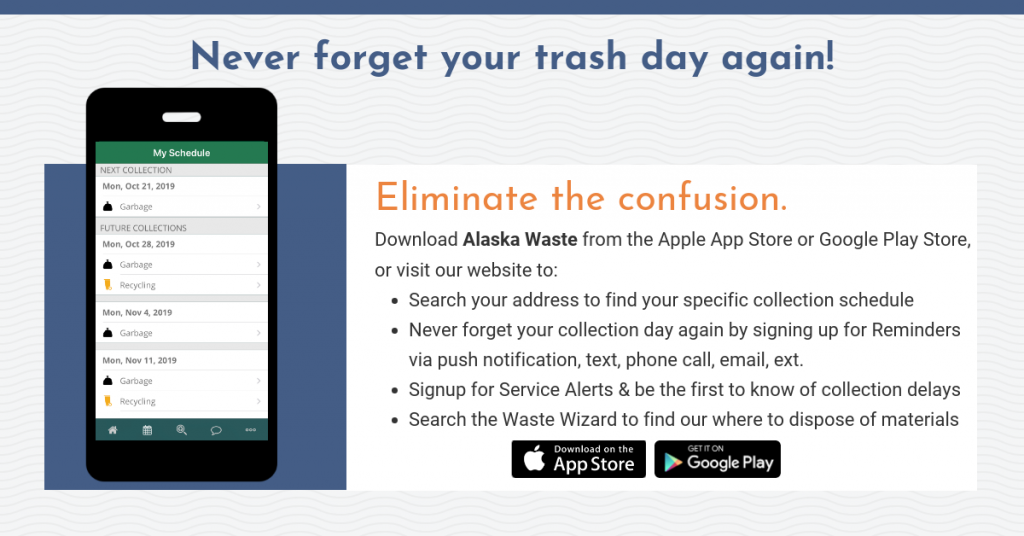 Apple App Store
Google Play Store
Alaska Waste contributed to the post. Alaska Waste provides frequent updates, reminders, and tips on their website.