JBER-R residents should be mindful of a scheduled upcoming road closure on 5th Avenue between Akutan and Beluga; Doyon Utilities will be performing sewer line maintenance.
*Updated 8/17: Dates changed due to unforeseen circumstances. 
**Updated 8/30: Closure date extended to 8 September
***Updated 9/6: Closure date extended until further notice. CE and Doyon will provide updates as they become known. 
SCHEDULED DATES
Work will now be taking place from 27 August until further notice***. The closure will only affect the road between Akutan and Beluga.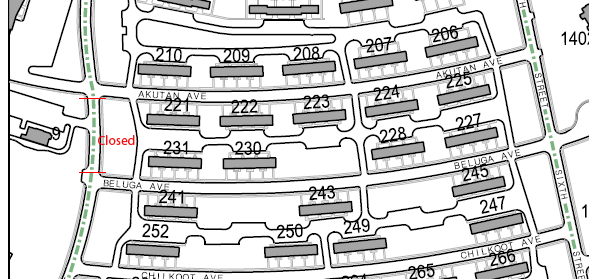 DETOUR
If Heading North on 5th:
Take a right on Beluga and head down to 6th Avenue. You may then turn left onto Akutan or continue heading North to Richardson Drive.
If Heading South on 5th:
Take a left onto Akutan and then right onto 6th. You may then turn right onto Beluga or continue heading South to Dyea Avenue.
Drive Safely
The detour goes directly through a neighborhood, please drive carefully.
Access will be limited to residents of the Akutan and Beluga areas only during this road closure.  Additionally, school starts 20 August, expect increased activity around Beluga and 6th Street so please slow down, pay attention and adhere to this road closure.
Questions? Contact Doyon Utilities at: 907-338-3600.