Yard sales are kinda a big deal during PCS season, and we hope to provide a number of new resources this year to ensure your yard sales are successful.
What are the rules?
Yard Sales on JBER can be held at any time, so long as you are are advertising using the signs available at the U-Fix-It. Up to two yard sales are permitted per year, with participation in the community yard sales not counting towards this limit.  More information about yard sales on JBER can be found in Section 11.3 of our handbook.
Signs available at the U-Fix-It are first come, first served. One sign should be placed in your yard, and the other should be placed in the entrance into your subdivision.
View Section 11.3 of our Handbook
Social Media Sharing
In addition to the two signs available at the U-Fix-It, you can let us know the dates of your yard sale, and we'll post a list of homes weekly.  In order for your sale to be posted:
You must submit a request at AuroraMilitaryHousing.com/Contact. Select subject "Yard Sale", and fill out all relevant information.
You must submit your request by 12 PM on the Thursday prior to the yard sale.
While you may have yard sales during other times, we will only share Friday, Saturday, and Sunday sales.
So what will it look like?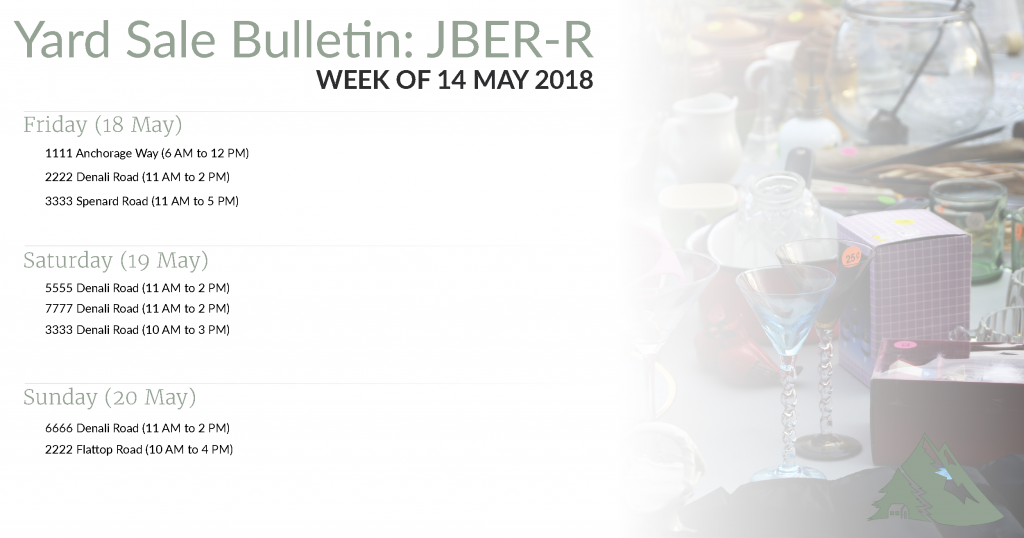 Community Yard Sale Weekend
The JBER community yard sales will include the entire installation, and will take place the on 27 July (Friday), 28 July (Saturday), and 29 July (Sunday).  Participation in this yard sale will not count towards your annual limit.