Every year, Aurora gathers input from the community, maintenance team, and JBER leadership to determine how to spend our common area, or "Quality of Life" fund. This fund is built from annual revenues and is designed to add or enhance community amenities.
Playground Surfacing Upgrades
A number of playgrounds across the installation will be undergoing surfacing upgrades over the coming weeks. The premium unitary, turf style surfacing is more durable, soft, and aesthetically pleasing than the existing wood chip fills. These 6 locations will be cordoned off with orange construction fencing during construction, which will be completed over the coming six weeks. While the surfacing is under construction, we ask that parents keep kids away from the area.
Chugach Playground # 1, between 3902 and 2910
Silver Run Playground # 3, at Community Center behind 3750
Houston Playground # 6, between 4124 & 4122
Moose Crossing Playground # 9, at Community Center
Kodiak Playground # 3, between 1269 and 1271
Puffin Park Playground # 4, between 546 & 544
Community Center Upgrades
While community centers are still closed due to ongoing federal/state guidance on acceptable gathering sizes, we are using the opportunity to refresh the facilities
All Community Centers: new flooring and paint
JBER-E Community Garden Construction
We received over 100 applications for our JBER-R community garden this year alone, but lacked the capacity to accommodate a large percentage of those requests.  Fortunately, we were able to secure bids and begin construction on a new community garden located on JBER-E in the Silver Run Community. If all goes as planned, this garden will be open by summer of 2021.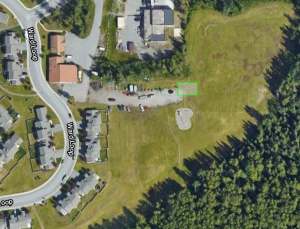 Future Upgrades
Your suggestions for common area community amenities are always appreciated. We rely heavily on feedback from the CAC, Mayor's Council, and direct requests through our website when determining how to spend Quality of Life money.