All prior safeguards still remain in place, with some updates as detailed below.
EFFECTIVE IMMEDIATELY
1. Self Help Center: Delivery Only (Update!)
Our Self Help Center will be closed to all walk ins and we will no longer offer pickup service BUT…
You may request a zero contact delivery online at the form below.

It may take 3 business days to deliver; we are no longer setting deliveries for set dates, as in many cases we are able to deliver sooner.
Due to concerns over virus transmission, we have halted rental of carpet shampooers.
Rentals can be dropped off by our office from 10-2 Monday-Friday or our team will contact you to discuss the return process.
All rentable items are sanitized prior to delivery, we ask that you clean them/wipe them down prior to returning.
2. Community Centers: Reservations Cancelled Indefinitely
Reservations were previously cancelled until 1 April, we have decided to cancel all future reservations until further notice.
3. Online Resources
Website Chat Functionality
Our web chat is live! Simply click the "Chat Now" icon at the bottom of your screen. Live assistance will be available from 10-2, Monday- Friday.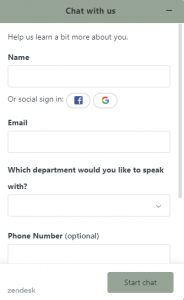 COVID-19 Landing Page
We continue to update our landing page.
View COVID-19 Page
Contact Form
Have other questions? You can always submit a request through our contact form.
View Contact Form
4. Payments and Documents
If your family is experiencing financial hardships due to COVID-19, we have options available to provide relief; please contact our office to discuss. We understand this is a difficult time for some, and do not want to add to that difficulty.
We have payment/document dropboxes located outside of both of our offices.

6350 Arctic Warrior Drive
338 Hoonah Avenue

If you need to make a payment over the phone, please call between 10 and 2 Monday-Friday. If you do not get through, there will be an option to leave a message. You will not be charged late fees/penalized in any way if we do not get back to you on the same day.
Credit Card transaction fees are waived until further notice for phone payments; this is to encourage social distancing.
5. Playgrounds: Usage Discouraged
We are heavily discouraging use of all playgrounds during this period of hunkering down and social distancing.