For your convenience, we are once again providing a no cost Christmas Tree disposal option for residents on JBER.
WHEN AND WHERE?
Update 1/4/21
We have permanently pulled the cardboard dumpsters. Unfortunately they were not used properly.
From 29 December to 11 January dumpsters will be placed outside both of our offices to collect old Christmas trees. Additionally, cardboard recycling dumpsters will be available for all of your cardboard disposal needs at the same locations (please, please break down all cardboard before placing it in these dumpsters)
6350 Arctic Warrior Drive, JBER-E
338 Hoonah Avenue, JBER-R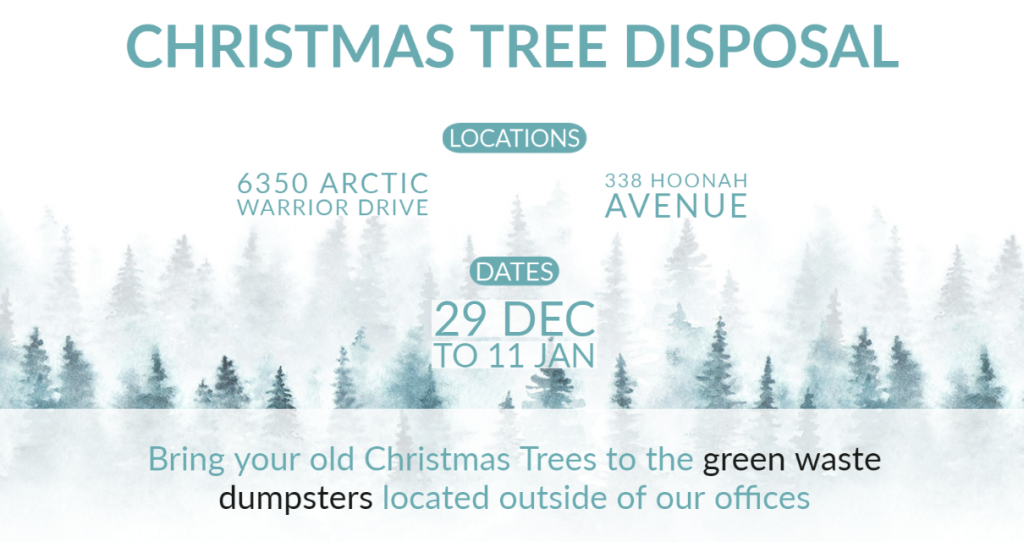 Remove All Decorations
All lights, ornaments, candy canes, tinsel, and whimsical tree decor should be removed from the tree before tossing it into our dumpsters.
SANTA IS WATCHING
The green waste dumpsters are only designated for Christmas trees and the cardboard dumpsters are only designated for cardboard. Please do not place household waste in either of these resources.
Note: Dumpsters located on AMH property are not for resident household waste. In fact, there are no dumpsters on JBER (that we know of) that are designated for resident household waste. Disposal of household trash in private dumpsters is illegal.